Category: Aly & AJ
Did you miss 78Violet's Ustream chat yesterday? Well if you did you can still watch the video of it below:
Hey everyone! Aly & AJ will be chatting live with fans tomorrow (June 15th) on Ustream at 11:30AM PST. Their Ustream channel is located here! Be sure to sign up and ask them questions!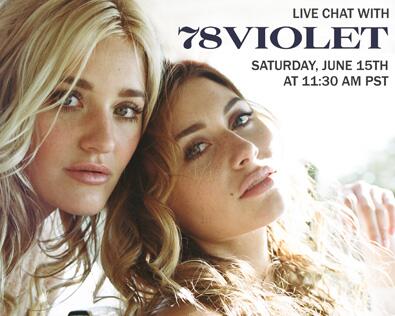 78Violet's debut single Hothouse will be released on July 8th! And according to the article below the music video will be released the same day!
Pop duo will play its first live show in five years later this month.

Former teen pop stars Aly & AJ have grown up and rebranded themselves: now in their early 20s, the sister duo has changed their name to 78Violet. "Hothouse," their first single under their new moniker, will be released on July 8, with an album to follow.

The duo will also perform live for the first time in five years when they take the stage for special shows at the Roxy Theater in Los Angeles on June 26 and the Gramercy Theater in New York on July 9.

May 12, 2013 | #Hothouse #Sneakpeek #78violetTrolls by 78violet on Keek.com

"We couldn't be more ready or excited to introduce our amazing fans to the new and evolved sound behind 78Violet," says Aly and AJ Michalka in a press statement. "These two upcoming shows will allow us to share a small taste of the alternative pop vibe that you'll hear on the album in an organic and up close and personal setting."

The sisters came onto the scene in 2005 with their debut album "Into the Rush," which has sold 839,000 copies to date, according to Nielsen SoundScan. The girls are best known for singles "Rush" and "Chemicals React," which both cracked the BHot 100. "Insomniatic," their last album under the name Aly & AJ, was released in 2007 and peaked at No. 15 on the Billboard 200 chart.

Since leaving Hollywood Records in 2009, the duo has been active in film and television. Aly starred in the cancelled CW drama "Hellcats" and will appear in the upcoming film "Grown Ups 2," while AJ had small parts in "Super 8" and "The Lovely Bones."

The newly refreshed duo have been working on material for an upcoming album, which is "soon to be released," according to a press blast. "Hothouse" was produced by David Kahne, and its music video will also be released on July 8.
Great news!! The girls have signed with Red Light Management!! Read below:
Aly & AJ Michalka, collectively known as 78violet, have signed with Jonathan Shank and Bruce Flohr at Red Light Management. The duo have been working on their first record in 6 years with producer David Kahne. "We're thrilled to introduce 78violet (formerly know as "Aly & AJ") under Redlight Management. We're honored to be represented by such a successful and forward thinking firm aimed towards artistry and longevity," the duo said. They have also produced a video for their forthcoming single "Hothouse' to be released later this summer under their production company "Violet House".

Both girls have recently been featured in high profile film & tv projects with Aly starring in Bandslam, Easy A, and the hit CW show Hellcats, as well as costarring in the feature The Roommate. AJ has also been busy and co-starred in The Lovely Bones, Secretariat and Super 8. In 2013, AJ stars in the Lionsgate feature Grace Unplugged as well as the indie film Jesus In Cowboy Boots. This year Aly will star in the indie films Sequoia and Killing Winston Jones. She also makes a cameo appearance in Grown Ups 2.

Their last release, "Insomniatic," sold over 2 million copies worldwide and spawned their platinum single, "Potential Breakup Song," which to date has garnered over 45 million views on Youtube. Since becoming 78violet, they've managed to accumulate a significant social media footprint. This will be their first record released under the 78violet moniker. Aly & AJ continue to be represented by CAA and Principato-Young Entertainment. They currently reside in Los Angeles where they were born and raised.
Hey everyone!! Four songs off of 78violet's unreleased Hollywood Records album have been leaked! The songs that were leaked are Walk Alone Tonight (my favorite I think!), Bullet, Lovesick, and The Edge. It's great to hear these songs! Check them out below: